Serenade Strings Ensemble (SSE)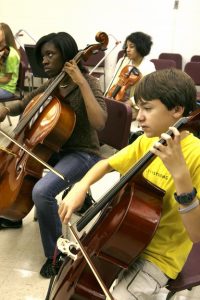 Serenade Strings Ensemble (SSE) is the entry-level string ensemble in the Armstrong Youth Orchestra (AYO) Program. This ensemble is for beginning-level string musicians who have already played in an ensemble or intermediate-level musicians new to orchestral playing. Students should already read notes and rhythms. All music that SSE plays will be in first position.
We strongly recommend all Serenade Strings students obtain a private lesson teacher, as the once-a-week group ensemble experience alone is not enough to progress and develop a solid technical foundation. The SSE plays pieces rated — ASTA Grade 1-2.
Unless otherwise indicated, Serenade Strings rehearsals are Saturday mornings from 9:30 – 10:30 a.m. Rehearsals will be in Room 202 (choir room, second floor) in the GSU Fine Arts Hall of the Armstrong Campus. Please arrive at 9:15 to tune and set up.
Rehearsal Schedule for the Fall 2019 Semester:
September 7: First Rehearsal Canceled
September 14: Regular Rehearsal
September 21: Regular Rehearsal
September 28: Regular Rehearsal & Final due date for T-shirts
October 5: Regular Rehearsal
October 12: Regular Rehearsal
October 19: Regular Rehearsal
October 26: Please arrive at 9:10 am so our rehearsal can begin exactly on time. Go directly to the Recital-Room #206 upstairs. After our short Dress Rehearsal, you can change into your costumes. After our Dress Rehearsal and before the Concert begins – please put your violin cases on the tables in the hallway near our normal rehearsal room. You must be in your costume, seated in your seat on the "stage" at 11:15.
October 26: Halloween Concert @ 11:30 a.m.
November 2: Regular Rehearsal
November 9: Regular Rehearsal
November 16: Regular Rehearsal
November 23: Dress Rehearsal (Morning time TBA)
Sunday, November 24: Fall Concert @ 3 p.m.
Required Concert Attire  Audition Requirements By Instrument
Spring 2020: Important Dates for SSE, LSE and RYO
January 8: Auditions for New Students
January 18: First Rehearsal
March 21: Spring Break – NO Rehearsal
May 2: Dress Rehearsal (Time TBA)
May 4: Pending Spring Concert (Fine Arts Auditorium) @ 6:30 p.m.