Lyric Strings Ensemble (LSE)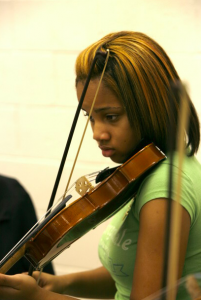 The Lyric Strings Ensemble (LSE), is the third tier string ensemble in the Armstrong Youth Orchestra Program (AYO Program), and is intended for advanced beginner and intermediate level string students. We place our music students by ability as demonstrated during their audition and NOT by age. All music that LSE plays will be in first and second position. This group plays repertoire at a graded Level 3 in the state of Georgia.
It is strongly advised that all Lyric Strings Ensemble students obtain a private lesson teacher, as the once-a-week group ensemble experience alone is not enough to progress and develop a solid technical foundation.
Audition Requirements By Instrument
Lyric Strings (LSE) rehearsals will be held on Saturday mornings from 11 – 12:30. Rehearsals will be in Room 202 (choir room, second floor) in the GSU Fine Arts Hall of the Armstrong Campus. Please arrive at 10:45 to tune and set up.
Rehearsals for the Fall 2019 semester begin September 7, 2019.