AYO Required Concert Attire
Gentlemen
Men will wear a black tuxedo. This should include a white, pressed, tux or dress shirt, black satin bow tie and black satin cummerbund, black socks and black dress shoes. This apparel can be found locally, but feel free to go to the online company Formal Fashions Inc.
---
Ladies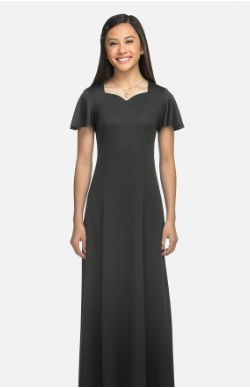 Ladies will wear a long black gown, black hose and black dress shoes. Closed toe is preferred. Please note that sandals and clogs are not permitted.
Please order Style #3762AA Performance Knit: Black: $59 from Formal Fashions Inc. This dress has a sweetheart neckline and bell sleeves. If you attend Savannah Arts Academy, you may wear your school orchestra dress.
If you already have a long black dress from your school Orchestra or Concert Band, you must speak to Ms. Jones about the dress being appropriate for our concerts.
Seniors: for new ladies joining AYO for their senior year, it is understandable if you choose not to buy a gown for only one year. However, it is required that your attire be very similar to the gown that the other ladies will be wearing. In other words, a LONG black skirt & a dressy black blouse covering your shoulders. Please speak to Ms. Jones about your intentions.
PLEASE take measurements and follow the size chart on line. The size you will need to order WILL be different than what you buy in a department store. Please allow ample time to order these garments, and also allow time for hemming the dresses. The dresses do NOT come hemmed. Last fall they took up to a month to arrive, so please order in plenty of time for the November concert.