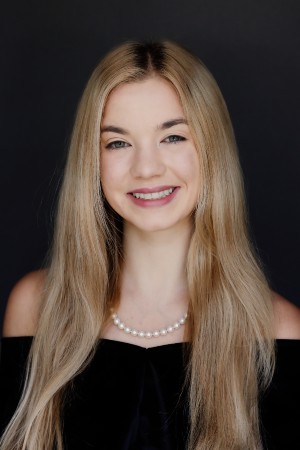 Gabrielle Elise Doney
Gabrielle Elise Doney was born in Richmond GA and has been with AYO, LYO and RYO for many years now, playing the oboe and percussion. Gabrielle was selected for District Honor Band for the last 4 years, and also has been the percussion captain for Richmond Hill High School Band for 3 years.
Gabby is an honor student and a member of the National Honor Society. She plans to pursue a degree in audio engineering from Georgia Tech.
---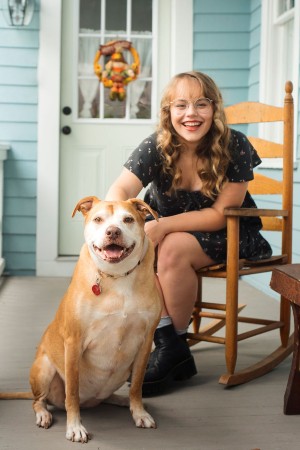 Isabel Davis
Isabel Davis is the daughter of Jeffrey Davis and Terra Andrews and stepdaughter of Dane Andrews. Music has been Isa's joy and comfort since infancy. Her first formal music instruction was piano lessons at age 3, and then moved on to chorus participation at church and school through her elementary years. Isa began playing the trumpet in sixth grade at Oglethorpe Charter School and has studied trumpet privately with Mr. Paul Lott for five years. Isa attended the University of North Carolina- Greensboro music camp for three consecutive summers and has participated in Honor Band including passing to the second round of All-State this year. Isa attends Savannah Arts Academy majoring in band. In addition to the trumpet, Isa enjoys playing the piano and composing music.
Isa's other major passion is books! She and her stepfather have designed and constructed multiple bookshelves for her room over the past four years, the last being 100% from discarded wood and an old door! Isa's book collection numbers well over 100+ titles and she has read them all! Isa plans to attend college next year focusing on studies in English and Linguistics with a minor in either music performance or composition.
---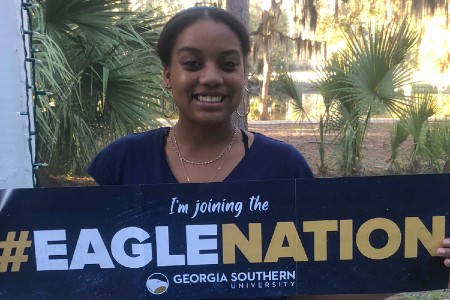 Fayha Polite
Fayha Polite is graduating as an orchestra major from Savannah Arts Academy. She has been playing cello for 7 years and has been a member of the Armstrong Youth Orchestra program for 6 years. She is currently principal cello with the AYO and the Savannah Arts Academy Mastery Orchestra. With the guidance of her private teacher, Sarah Schenkman, Fayha has been accepted into the All-State Orchestra for the past 5 years. Along with cello, Fayha has played bass in the elite Skylite Jazz Band at Savannah Arts Academy for the past 3 years. With skills in both classical and jazz, Fayha has played with the Savannah Philharmonic, participated in the Savannah Jazz Festival, and many other music events.
Fayha plans to pursue a career in Music Education at Georgia Southern University. She hopes to one day be as great as her late middle school music teacher, Katie Devyatkin, and her Savannah Arts Academy music director Emily Calhoun. She is grateful for all of the guidance from Ms. Jones, and the Armstrong Youth Program.
---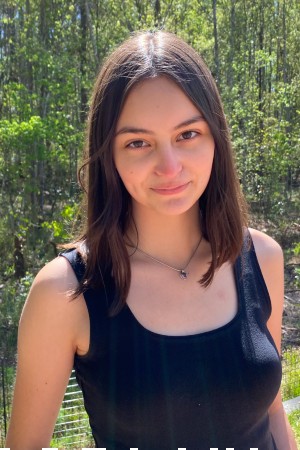 Amélie Ratliff
Amélie Ratliff, ranked 4th in her senior class at May River High School (Bluffton, SC), began studying Suzuki violin at the age of four. Since 2014 she has been a member of the Armstrong Youth Orchestra program. Amélie won the Junior Concerto Competition in 2015. During her seven years at AYO Amélie has been selected as concertmaster at multiple levels. Amélie has also performed as part of orchestra pits for various community theatre organizations. During the summers of 2018 and 2019 Amélie attended an advanced classical summer music camp at Luzerne Music Center in upstate New York.
For the past eleven years, Amélie has also been a favorite musical volunteer performing with her dad at assisted living and memory care centers all around the low country. She is a founder of Strings for Strays, raising money for the Hilton Head Humane Association through live music performances. A member of the National Honor Society, Beta Club, recipient of the President's Award, Student of the Year, and Character Award, Amélie has accepted a $30,000 per year academic merit scholarship to attend Stevens Institute of Technology in Hoboken, New Jersey pursuing her undergraduate degree in computer science. Since she will be right across the river from Manhattan, Amélie looks forward to continuing playing music in a variety of exciting new settings.
---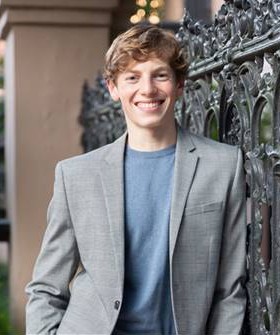 Will Jennings
Will Jennings is graduating from Savannah Arts Academy where he has played in the Mastery Band, Jazz Band, and Orchestra. He has been playing trombone since the 3rd grade, and he also plays tuba and baritone. He followed in his older sister's footsteps by joining the Armstrong Youth Orchestra program as soon as he could in 6th grade. Some of the most memorable moments of his musical career include playing for school musicals, including Music Man, Thoroughly Modern Millie, Adamms Family, Chicago, 13, and Fiddler on the Roof. He has participated in District Honor Band and All-State Band and was selected for the Governor's Honors Program last year.

Will helps lead worship at his church, and on any given Sunday he can be found playing guitar, bass, or singing. He also has a passion for fitness and has reached several personal weightlifting goals over this past year. He competes in hurdles and discus on his school's track team. Will will be attending the University of Georgia next year and plans to study exercise science.
---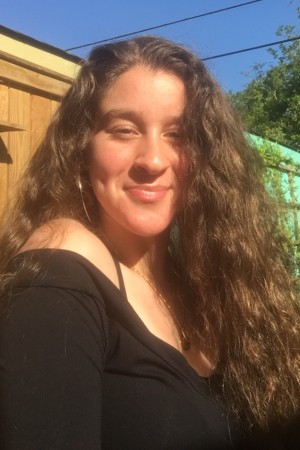 Frances Prager
Frances Prager started playing the violin when she was eight years old. Her father, who is also a musician, taught her through the years while she studied with other private teachers. Every summer her family travels to Cuba, where she is from, and visits family but also takes the opportunity to take lessons from the best string teachers there.
Frances began playing in the Armstrong Youth Orchestra Program in 2015 and has been concertmaster for RYO and currently is the concertmaster this year for AYO. In the summer of 2019 she received a full scholarship to attend the Luzerne Music Camp in Albany, New York for a month where she befriended many international musicians. She is now a senior at Savannah Arts Academy and is concertmaster of the Savannah Arts Academy Mastery Orchestra. She has successfully made Allstate her sophomore, junior, and senior year. Frances has been awarded a scholarship to attend the University of Georgia as a music performance major next Fall.
---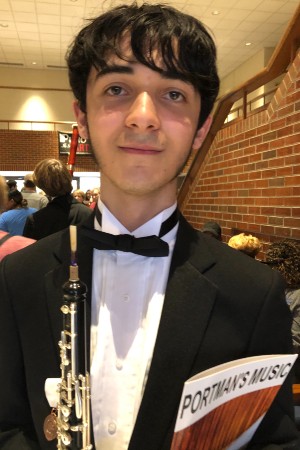 Emmett Dennis
Emmett Dennis is graduating from Savannah Arts Academy as a Band major. He started working with woodwind instruments in fifth grade, beginning with the clarinet. He transitioned to the oboe in seventh grade and studied privately with Kristi Kiene through middle and high school. Emmett qualified for district honor band every year from ninth through twelfth grades, and was principal oboe in both eleventh and twelfth grades and qualified to audition for All-State Band both of those years as well. For his senior year, Emmett was chosen as an alternate for All-State Band.
At Savannah Arts, Emmett is a member of Beta Club, Tri M Music Honor Society, and Mu Alpha Theta Math Honor Society. He also volunteers every other week at People Helping People, where he helps feed the homeless community of Savannah. His other hobbies include drawing, playing the marimba, playing video games, and most importantly, skateboarding.
Emmett plans to attend Pepperdine University in the fall to study chemistry and biology in preparation for medical school. The selected recipient of a scholarship in the Fine Arts, he will also be able to continue his passion for music as an oboist in the Pepperdine Orchestra and Wind Ensemble under the tutelage of Dr. Aki Nishiguchi.
---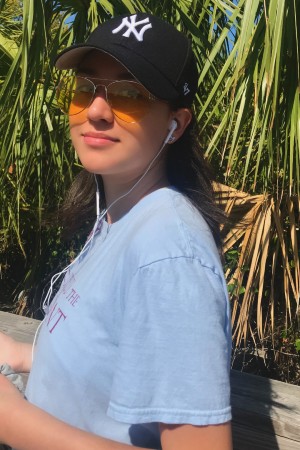 Allie Luna
Allie Luna will be graduating from Savannah Arts Academy in the Spring of 2021 as an Orchestra Major under the direction of Emily Calhoun. She has been playing the cello since she was eleven-years-old and has studied under Nan Kimberling of the Atlanta Celli Quartet, Karen Freer of the Atlanta Symphony Orchestra, Sarah Schenkman, and Dr. Steven Elisha. This is her second year playing with the Armstrong Youth Orchestra.
She also plays piano, guitar, bass, and ukulele. She transferred to Savannah Arts Academy after attending her Freshman and Sophomore years at Fayette County High School. There she was in marching band and played in the drumline, and occasionally played piano for the different concert bands at the school. She was principal cellist in the FCHS Chamber Orchestra and played for Governor Nathan Deal in December of 2017.
Allie has received a music scholarship to attend the Fred and Dina Gretsch School of Music at Georgia Southern University and will continue to study with Dr. Elisha there. She has also been selected to be in the prestigious Magnolia Quartet at the university. Allie has recently taken up songwriting and producing and eventually would like to make that her career.
Allie wishes to thank Ms. Jones for this wonderful experience of participating in the Armstrong Youth Orchestra!
---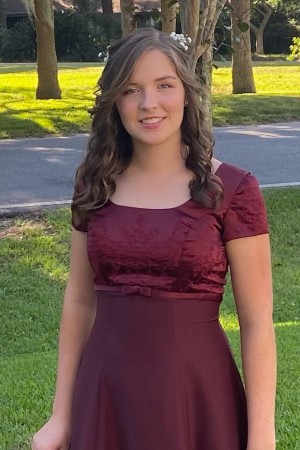 Avery Allen
Avery Allen has had a love for music, in particular the violin, since the age of eight. She is graduating as a homeschooled student, and plans to take a year to work and travel before attending a Christian Liberal Arts College in the fall of 2022. Avery has had the joy of participating in the Armstrong Youth Orchestra Program since January of 2020.
Avery would like to thank her very first violin teacher, Lise Sentell, for taking an interest in the little girl down the road, and teaching her to play on a borrowed violin. She would also like to thank her current teacher, Ann Cafferty, for generously pouring her time and effort into her life, especially throughout a challenging year. Anne's enthusiasm and love for music have been an inspiration! Besides playing her violin, in her free time, Avery enjoys reading a good classic mystery novel, drinking cold brewed coffee, and spending countless hours in her own greenhouse…preferably all three at the same time.