Xavier Rodriguez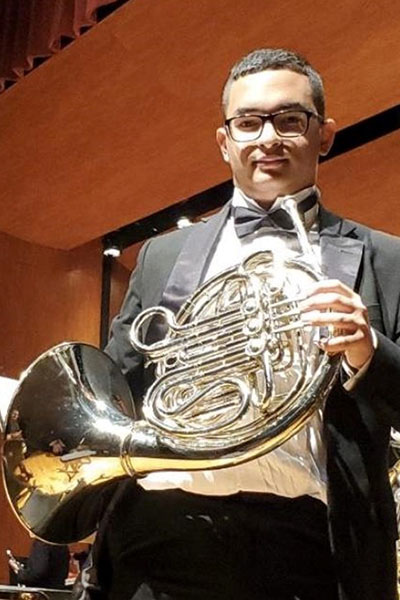 Xavier Rodriguez is an honor graduate of Richmond Hill High School, graduating in the top 5% of his class. He started playing the French horn in 6th grade, and has been in band since then. He was 1st chair in the GMEA All State band in 2019, and was selected for the NAfME All-National Symphonic Orchestra in November of last year. He has been a member of the AYO program since 8th grade.
Besides the French horn, he plays the piano, keyboard, mellophone, and trumpet. During his time in AYO, he studied under Ms. Nancy Bennet.
This fall, Xavier plans to attend Carnegie Mellon University under their interdisciplinary program of Physics and Horn Performance and will study horn under William Caballero from the Pittsburgh Symphony Orchestra.
Fun Fact: I might not look like it, but I am a German citizen!
---
Sarah Povie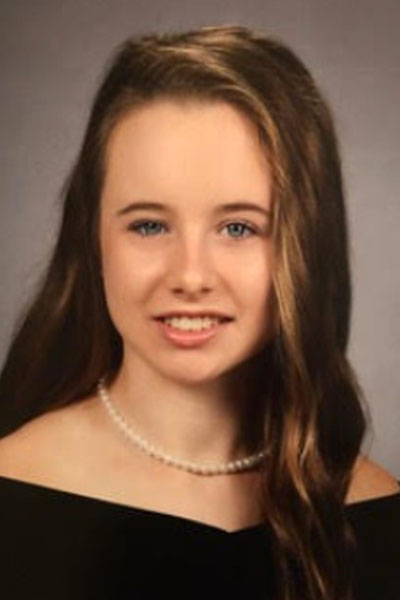 Sarah Povie is graduating from Savannah Arts Academy as an Orchestra major. She has played the cello since she was seven years old. She has studied cello privately with Sarah Schenkman for six years. She qualified for the state level Orchestra Allstate auditions every year from seventh through twelfth grade.
Sarah is the Savannah Arts National Honor Society Vice President, and is also a member of the Beta Club, Mu Alpha Theta Math Honor Society and the National Science Honor Society.
Sarah was captain of her school's Cross Country team, and in her Junior year was the Region champion and a State qualifier in the 300m hurdles event in Track and Field. She currently holds the school's 300m hurdles record time. In her Senior year she qualified for the state level Swimming Championships at Georgia Tech as well.
Sarah will be attending the University of Georgia, majoring in Exercise and Sport Science. She looks forward to continuing to play cello in the University Philharmonia. Go Dawgs!
---
Desirae Sievers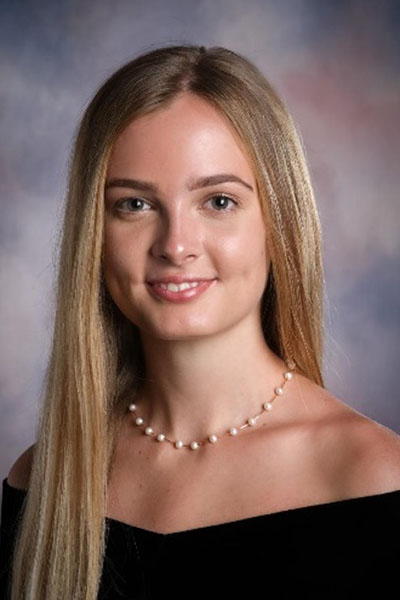 Desirae Sievers, the daughter of Donna and David Sievers, will be graduating from St. Vincents Academy. In her free time, she enjoys painting, traveling and spending time with friends. Desirae has been a part of the AYO program for 5 years, and has played the violin for 12 years.
Desirae will be attending Georgia Institute of Technology, where she will major in Environmental Engineering with a minor in Sustainable Cities.
---
Jalin Alexander Graham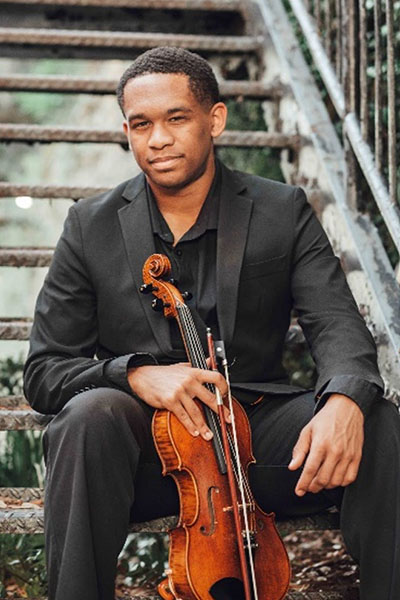 Jalin Alexander Graham became interested in music at the age of eleven, studying with the Oglethorpe Orchestra in Savannah, Georgia under the instruction of Mr. Luis Branch. He was inspired to begin playing the viola after watching cartoon characters Jake and Lady play on episodes of "Adventure Time."
As a proud student of Savannah Arts Academy, he has worked with the lovely Mrs. Emily Calhoun. He is also under the instruction of Savannah Philharmonic's Principal Violist, Lizhou Liu. Jalin has performed at various events ranging from tea parties to professional level events such as TED X Savannah and the International consulate general event at the Mighty Eighth.
He has played with the Armstrong Youth Orchestra, Savannah Philharmonic, All-state Orchestras and the Savannah Arts Orchestra at The Kennedy Center. He has a strong passion for the viola and takes great pride in his work. His plans are to become a professional viola performer and join world-renowned orchestras as well as compose and conduct music. He enjoys video games, mac & cheese and soccer.
He has received a music scholarship to attend The Schwob School of Music at Columbus State University and will begin his studies in Music Performance during in Fall 2020.
---
Tori Glazier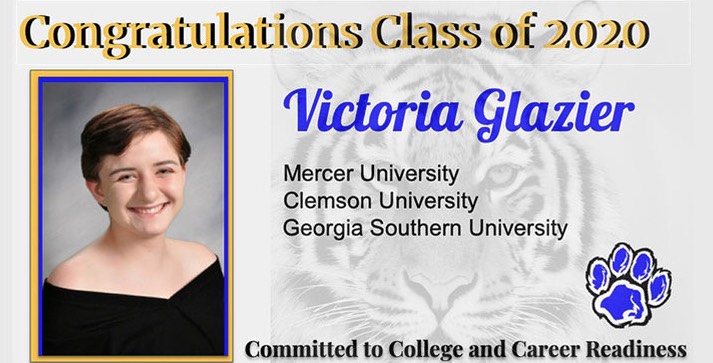 Tori Glazier is a graduate of the Bradwell Institute where she was Front Ensemble section leader for two years.
Glazier plans to attend Mercer University In the fall to study biochemistry as a pre-Med student. Music is her biggest hobby and she plans to continue with band and orchestra in college.
---
Junho Chang
Junho Chang started learning and playing the violin at a very young age and took private lessons from Kerri Sellman. Through Kerri Sellman, Chang learned about AYO and joined. Since then he has participated in the youth orchestra every year learning how to play in an orchestra and even as a soloist in the concerto competitions.
Chang began studying under Lizhou working on solo pieces and concertos. Along with AYO, he joined his school orchestra at Savannah Country Day School, directed by Paula Swart, and furthered his orchestra experience.
After 13 years of AYO and 5 years of orchestra at SCDS, he has now graduated from SCDS and is planning to attend Mercer University. At Mercer, Chang plans to study mechanical engineering, and maintain his music career recreationally.
---
Peter Stephen Gardner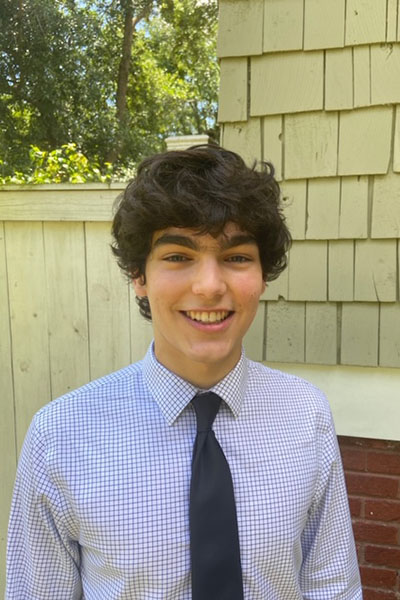 Peter Stephen Gardner is the son of Sabrina and Stephen Gardner. He recently graduated from the Savannah Arts Academy and has studied cello privately with Emily Calhoun for three years and Sarah Schenkman for four years.
Peter was selected for the GMEA All-State Orchestra for the past four years and has been a member of the Armstrong Youth Orchestra for the past eight years. Peter has attended the University of Georgia Summer Music Institute, the Elaris Summer String Academy, and the Carolina Summer Music Conservatory. He was chosen to participate in the Georgia Governor's Honors Program for music last summer. Peter is currently principal cellist of the Savannah Arts Academy Orchestra and the Armstrong Youth Orchestra. Recently, he won the Armstrong Youth Orchestra Concerto Competition.
Peter enjoys playing ultimate frisbee and studying math and science in school. He plans to major in Chemical and Biomolecular Engineering at the Georgia Institute of Technology. Peter will continue taking cello lessons in Atlanta.
---
Emily Hirabayashi Primmer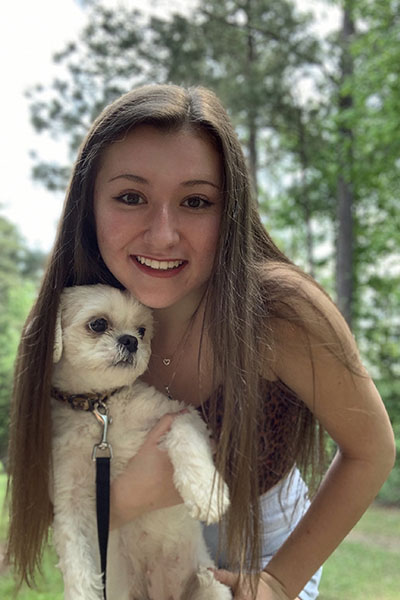 Emily Hirabayashi Primmer graduated as the Co-Valedictorian of the Savannah Arts Academy Class of 2020. During her time at SAA, she majored in both piano and orchestra under the direction of Sun Min and Emily Calhoun, as well as private teachers Nancy Vogelsang and Dana Duncan-Davis.
Primmer's hobbies include sharing her passion for music with others through performances and community outreach, spending time with her Shih-Tzu rescue named Lulu, and playing the awesome sport of roller derby.
Primmer plans to attend Georgia Tech in the fall to major in biology and minor in music. Primmer says she is honored to have been part of the Armstrong Youth Orchestra program since she was in third grade, and she looks forward to seeing the love and learning it fosters in young musicians for years to come!
---
Spencer Thornock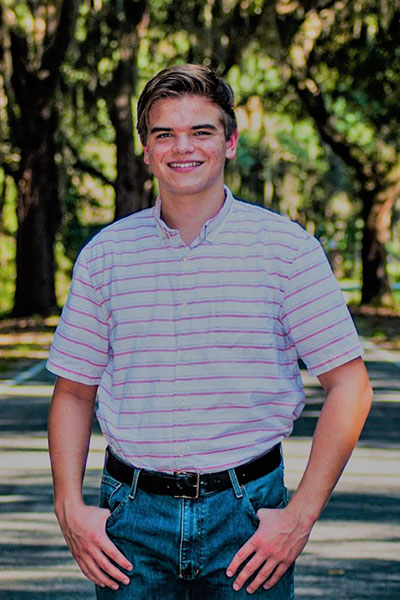 Spencer Thornock, Principal Trumpet in AYO, is a 2020 graduate of Richmond Hill High School. This is his second year in the AYO. Spencer has been a member of the RHHS Wind Ensemble and Symphonic Band and participated in the 2019 & 2020 GMEA Honor Bands.
Prior to moving to Georgia, Spencer was placed in the top-rated Wind Ensemble at Curtis Senior High in University Place, WA. Spencer has studied privately with Paul Lott, Judson Scott, and Ed Castro.
In his free time, he enjoys gaming, serving and volunteering at the Basilica Cathedral of St. John the Baptist, exploring Savannah and the surrounding area, and hanging out with family and friends. He plans to attend Columbus State University this fall.
---
Nehemiah C. Turner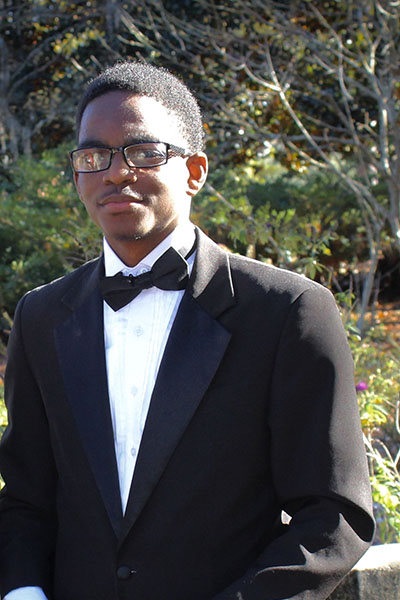 Nehemiah C. Turner is an identical twin and is a graduate of Savannah Arts Academy, with a concentration in Orchestra. Although he and his twin brother enjoy many similar things, Nehemiah found out very early on that brass instruments were not for him as his first attempt at playing one in the music store resulted in his family being showered by his attempts to blow into the instrument. When he moved to the strings instrument, he beamed with joy as he was able to maneuver the instrument quite well.
Since then he has enjoyed playing the Viola through elementary, middle and high school for a total of 9 years. He performed with multiple school Orchestras including the Advanced Instrumental Ensemble for one year, and the Advanced and Mastery Orchestras for three years. He participated in the Georgia Allstate Orchestra and the Georgia Southern Armstrong Youth Orchestra for multiple years and also volunteered to assist participants in the Repertory Youth Orchestra for the past year.
These experiences have been enjoyable opportunities allowing him to increase his knowledge and skills. Some of his favorite musical experiences included performing with his school's Mastery Orchestra at the John F. Kennedy Center Music Festival in 2019 and performing with the Savannah Philharmonic Orchestra on multiple occasions.
Other school activities included the National Honor Society, the Key Club, the Savannah Arts Men's Junior Varsity and Varsity Soccer Team, and the Track and Field Team. Outside of school he was a mentee with the Boule Scholars Mentoring Program and an active member of Overcoming by Faith Ministries where he served as Lead Youth Usher, core member of the Amplified Image Ministry (AIM) Youth Ministry and Mime Dance Ministry. He has enjoyed assisting children by volunteering at church events and in the community at Georgia Animal Rescue and Defense (GARD). Nehemiah enjoys playing at churches, recitals and community events such as summer camps and the Black Nativity Musical.
In his spare time he enjoys learning to play the keyboard by ear and transposing and creating music in hopes that it will instill joy, happiness, and peace in many people's hearts. He will continue pursuing music at Georgia State University with plans to obtain a Bachelor's Degree in Music Technology. After college he also would like to continue performing in major orchestras all around the world as well as utilizing his technology experience to gain knowledge with sound design and music production.
---
Jeremiah T. Turner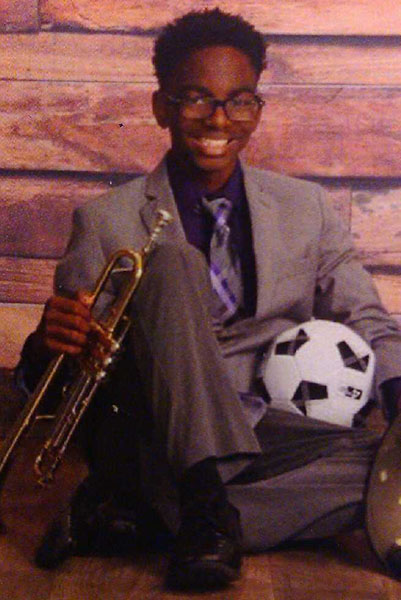 Jeremiah T. Turner is also a graduate of Savannah Arts Academy with a concentration in Band. Being the younger twin he likes to follow in his big brother's footsteps, however, that was not necessarily true at the music store. It was something about that shiny instrument that caught his eye as he often tried to imitate Louis Armstrong playing Jazz music. Because of the innate twin competitiveness he was determined to beat his brother and as he watched his failed attempts to blow on the trumpet he decided that he would outdo him and was successful on the first attempt. He started playing the trumpet in the fourth grade and was later switched by his teacher to the French Horn which has resulted in 6 years on the French Horn and 8 years on the trumpet.
In school he was a member of the Savannah Arts Wind Ensemble and Mastery Orchestra for 3 years, the Skylite Jazz Band for 1 year and participated in District Honor Band, Allstate Band, and the Winterfest Honor Band. Jeremiah was also actively involved in the Armstrong Youth Orchestra and Repertory Youth Orchestra where he served as a horn section volunteer with the younger participants.
Other school activities included the Key Club, the Savannah Arts Academy Junior Varsity and Varsity Men's Soccer Team, and the Track and Field Team. Outside of school he was involved with the Black Nativity Musical, and the Boule` Scholars Mentoring Program. He has also been an active member of the Amplified Image Youth Ministry and the Youth Core team at Overcoming by Faith Ministries where he participated in the Mime dance Ministry, Youth usher, and youth volunteer at many of the children and youth activities. In the community he has volunteered with "GARD" or Georgia Animal Rescue and Defence, which is an organization that rescues stray cats and dogs and those that can no longer be taken care of by their owners.
One of his most exciting musical experiences was participating in the Savannah Arts Mastery Orchestra performance in 2019 at the John F. Kennedy Center Music Festival in Washington, DC where he performed the French Horn solo piece in Tchaikovsky's 5th Symphony, 2nd Movement. This opportunity was a very rewarding experience that has impacted his passionate career goals to revolve around music. His long-term goal is to play in various professional concert and Jazz bands as well as orchestras. He is also interested in creating sound effects in various music productions. He too will be attending Georgia State University in the fall but will be pursuing a Music Performance major and a Music Management minor.
---
Sydnie Roberds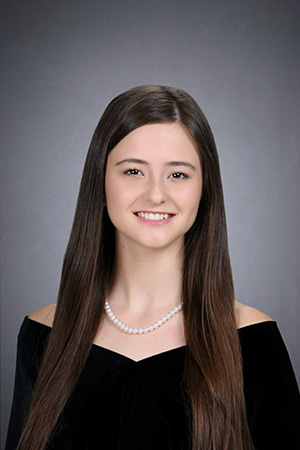 Sydnie Roberds, daughter of Alan and Shellie Roberds, is a graduating senior at the Savannah Arts Academy. While at SAA, she played double bass in the Mastery Orchestra, and was selected for the All-State Symphonic Band as a Junior, and the All-State Full Orchestra as a Senior. Originally a cello player, Sydnie was a member of the Lyric Strings Ensemble when she was in 5th grade. In 7th grade, she made the decision to switch to the double bass, and soon began studying under Ray Williams. His expertise, guidance, and encouragement has been a true blessing over the past 6 years. Sydnie once again joined the Armstrong Youth Orchestra in her Freshman year of High School, and has been the Principal bass player for the past 2 years.
Sydnie is a member of the National Honor Society, French Honor Society, Science National Honor Society, Tri-M Music Honor Society, Mu Alpha Theta Math Honor Society, and Beta Club. Sydnie also ran Track and Cross Country.
In addition to these accomplishments, she has worked as a Program Aide and Tour Guide at Girl Scout First Headquarters since she was a Freshman, and has been a Girl Scout since Kindergarten, earning her Bronze and Silver Awards. She is currently working on her Girl Scout Gold Award, the highest award that a Girl Scout can earn. She has also been on the QuestFest Girl Committee since 2017, and was selected to be on the Girl Scouts of Historic Georgia Council Advisory Board.
As a National Merit Scholar finalist and scholarship recipient, she is very excited to further her education in the Honors Program at the University of Idaho, where she plans to audition for the Symphony Orchestra.