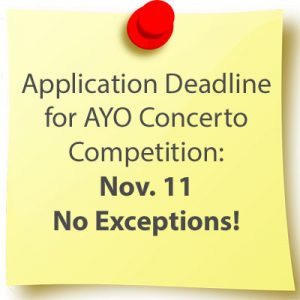 The AYO Young Artist Concerto Competition is open to any student who is a member of the Repertory Youth Orchestra (RYO) or the Armstrong Youth Orchestra (AYO), AND who has not reached TWENTY YEARS of age by January 1st.
The application deadline is November 11, 2018, and applications must be handed in at rehearsal to either Ms. Kristi or Ms. Jones. NO EXCEPTIONS!!
The competition winner will perform in the Spring Semester Concert accompanied by the AYO. If any contestant is selected as "Honorable Mention," they will be asked to perform for the Savannah Friends of Music luncheon in May.
Click here for full application instructions and to download the application form.