Armstrong Youth Orchestra (AYO)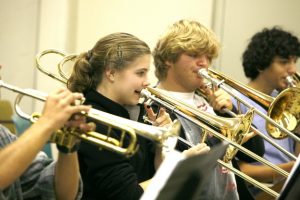 The Armstrong Youth Orchestra (AYO) is is a full-scale symphonic orchestra for advanced level music students. AYO performs standard classical orchestral repertoire at a graded Level 5-6 in the state of Georgia.
We strongly recommend that students playing at this advanced level should be studying with a private instructor. If you are new to the area, we will be happy to help you find an instructor.
AYO Required Concert Attire  Audition Requirements By Instrument
The Armstrong Youth Orchestra (AYO) rehearsals are on SUNDAY afternoons at 2:15 till 4:30 in the GSU Fine Arts Band Room of the Armstrong Campus. There will also be several weeks when the ensemble will break into sectionals – those locations will be announced in advance and posted in the lobby. Musicians should arrive no later than 2 p.m. to tune and get set up.
Spring 2020: Important Dates for AYO
Regular Sundays are not listed here. These are special dates added or swapped to accommodate scheduling conflicts, such as Easter, Spring Break, Senior-bash, Prom, etc.
January 18: Sr. Concerto Competition
January 19: First Rehearsal
March 11: Wednesday Rehearsal
March 15 and 22: Spring Break – NO Rehearsal
March 26: Thursday Rehearsal
March 29: Regular Rehearsal
April 9: Thursday Rehearsal
April 12: NO Rehearsal (Easter)
April 16: Thursday Rehearsal
April 23: Thursday Rehearsal
May 1: Thursday DRESS REHEARSAL
May 4: Pending Spring Concert (Fine Arts Auditorium) @ 6:30 p.m.